The National Lime and Stone Company
What sets us apart
We've stood for quality, service, and value for over 115 years.
"We are dedicated to an honest, vigorous, conscientious effort in all we do. We believe our solid work ethic, combined with creativity, learning, teamwork and trust, along with judicious use of our capital resources, will produce outstanding opportunities over the long haul for our customers, ourselves, our shareholders, and the communities of which we're an integral part."
– Carleton P. Palmer, III Executive Chairman of the Board
We take pride in our people-focused culture
The National Lime and Stone Company is a family-centered business.
National employees are limestone experts and, for decades, have been some of the most knowledgeable professionals in the aggregates and minerals industries. We strive to provide outstanding customer service and technical support to ensure that our top-notch products are delivered when and where they're needed.
We're committed to being good neighbors
With over a century of experience, enduring relationships are important to us.
The National Lime and Stone Company actively works to establish and maintain open communications with residents in the towns and communities where we conduct business, and we are always happy to host tours and other educational opportunities for local school systems.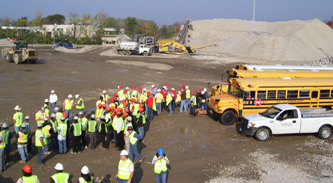 We're proud to be a company with a conscience
National is a local business with a long history of community involvement.
We care about the people in our communities, because we live there, too. The National Lime and Stone Company actively works with local charities, schools and a variety of organizations to help enrich the lives of others. National is proud to support the United Way, Habitat for Humanity and many other charitable groups.
Here, safety is serious business.
To protect the welfare of our employees and our community, we stress the importance of safety in everything we do. Our most powerful tools are education and prevention, which is why National Lime and Stone supports ongoing training in best safety practices for all of its employees.
Saving resources for future generations.
As a company that's been relying on natural resources for over a century, we feel a special responsibility to conserve. We believe in use without abuse, so we pay close attention to our impact on the environment and actively participate in finding ways to protect it.
National also works with its customers to help them minimize their impact on the environment. From smokestacks to waste-treatment facilities, we supply important products that help our customers reduce pollution and meet important environmental requirements.
Waste Minimization.
The National Lime and Stone Company's clean hard-fill sites provide contractors and municipalities with an economical and sound environmental alternative for disposal of clean earthen materials, such as soil, stone, and concrete. The use of clean hard-fill sites minimizes the needless impact of these inert materials on the capacity and life of our local solid waste landfills and construction and demolition debris sites. By restoring these previously mined areas to original grade, the reclaimed property can be managed for future development or provide parks and other recreational land for local communities.